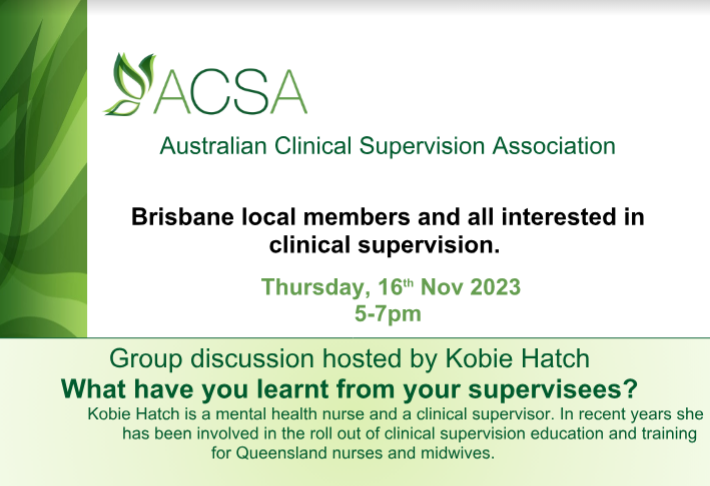 Brisbane Local Member Meeting
Brisbane local members and all interested in clinical supervision.
Group discussion hosted by Kobie Hatch – What have you learnt from your supervisees?
Kobie Hatch is a mental health nurse and a clinical supervisor. In recent years she has been involved in the roll out of clinical supervision education and training for Queensland nurses and midwives.
Why meet?
 Network with other professionals providing and receiving clinical supervision, or
wanting to know more about clinical supervision
 Come to an education session on clinical supervision
 Be informed about ACSA's vision and contribute your ideas
When:
Thursday, 16 th Nov 2023
5-7pm
Venue
Gestalt Therapy Brisbane
431 Montague Road, West End, QLD
Limited parking on site or street parking available
This venue and presentation do not lend themselves to online attendance. A summary of
proceedings will be available on the website after the meeting.
RSVP: November 15th, 2023
For more information, contact the convenors:
Kobie Hatch E: kobie.hatch@health.qld.gov.au M:0401448229
Bev Love E: BevHLove@gmail.com M: 0402 158 030
All welcome! ACSA & non-ACSA members,
There is no charge to attend.
If possible, please bring a small plate of finger-food/nibbles to share